Geek U.S.A.
Song Info:
Written by Billy Corgan
See the guitar tab
See the Vieuphoria file
Recorded:
December 1992-March 1993
Available On:
-
Siamese Dream
-
Vieuphoria
-
Earphoria
-Greatest Hits Video Collection (DVD), (VHS)
Other Info:
-On the GH Video, there is a live version of the song
from Oct. 15 or 16/93 at Oz in Seattle. Directed by
Jonathan Dayton + Valerie Farris. Dayton + editor,
Eric Zumbrunnen appear in make-up with 50 clowns
. James Iha + Shudder to Think's Nathan Larson
play 'clown managers'. Billy opens the set saying,
"They say you are the company that you keep."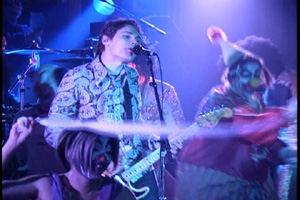 Song Secrets:
-During the first drum part, you can hear a man
talking (turn it up).