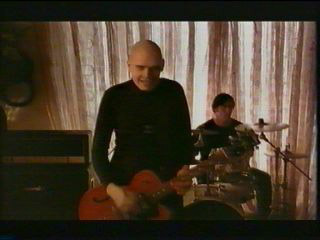 My reflection, dirty mirror
There's no connection to myself
I'm your lover, I'm your zero
I'm the face in your dreams of glass
So save your prayers
For when you're really gonna need 'em
Throw out your cares and fly
Wanna go for a ride
She's the one for me
She's all I really need
Cause she's the one for me
Emptiness is loneliness
And loneliness is cleanliness
And cleanliness is godliness
And god is empty just like me
Intoxicated with the madness
I'm in love with my sadness
Bullshit fakers, enchanted kindoms
The fashion victims chew their charcoal teeth
I never let on, that I was on a sinking ship
I never let on that I was down
You blame yourself, for what you can't ignore
You blame yourself for wanting more
She's the one for me
She's all I really need
She's the one for me
She's my one and only
Recorded:
Between March-August 1995
Video Info:
Directed by Yelena Yemchuk. A very strange video to say the least.For a lot of the video
you can only see half of Billy's face. There's imagery of weird men and women including 
Jon Melvoin who looks like a crazy Beethoven who is playing the piano. People are in clothing
that looks like its from Beethoven's time. Zero wasn't a chart topper even though many 
fans view it as one of their favorites on Mellon Collie and the Infinite Sadness.
Song Secrets:
Played backwards, says: 
i always knew(lose) if ever all my life shed the burners (something "burn".not quite sure) it
would not save me god says this not send me life send me life send me love send me love 
or descend me high descend me high descend me low descend me low
-At some parts it sounds like "she is god." 
-During the "emptiness..." part, when the instruments pause, you can hear them ring.
 there is a "rocket" sound from 2:26 to 2:28 (right channel). -Benoit The Sad Wizard.