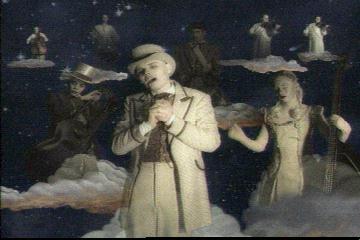 Time is never time at all
You can never ever leave without
Leaving a piece of youth
And our lives are forever changed
You will never be the same
The more you change the less you feel
Believe, believe in me, believe
That life can change
that you're not stuck in vain
We're not the same, we're different tonight
Tonight, so bright
Tonight
And you know you're never sure
But you're sure you could be right
If you held yourself up to the light
And the embers never fade
In your city by the lake
The place where you were born
Believe, believe in me, believe
In the resolute urgency of now
And if you believe there's not a chance tonight
Tonight, so bright
Tonight
We'll crucify the insincere tonight
We'll make things right,we'll feel it all tonight
We'll find a way to offer up the night tonight
The indescribable moments of your life tonight
The impossible is possible tonight
Believe in me as I believe in you, tonight
Listen to it in Real Audio
See the guitar tab
Recorded:
Between March-August 1995
Written by:
Billy Corgan
Available on:
Mellon Collie and the Infinite Sadness(CD/CS)
Mellon Collie and the Infinite Sadness(12")
Tonight, Tonight Single
The Aeroplane Flies High
The Smashing Pumpkins 1991-1998 promo
Rotten Apples (US Version)
Rotten Apples (UK Version)
Rotten Apples w/ Judas 0 (US Version)
Rotten Apples w/ Judas 0 (UK Version)
Video Info:
Released in 1996, Directed by John Dayton and Valerie Farris. The third Pumpkins video
directed by them. Won awards at the 1996 MTV Music Video Awards including: Video of
the Year, Breakthrough Video, Best Special Effects, Best Art Direction, and Best Direction.
Was nominated at the 1997 Grammy's for:Best Music Video Short Form. The video's
concept was based on the 1902 silent film by French filmmaker George Melies,Trip to the
Moon(Dans de la Lune). A movie which based on the Jules Verne novel, Voyage to the
Moon. In the video, the connection to Melies is shown with the steamboat's designation,
S.S. Melies.Tonight, Tonight was one of the more popular Mellon Collie Singles since it
reached the top of the charts in Canada and the U.S.
Song Secrets:
If you listen to the song backwards, this is what you may hear: 
ask master vegsley (all i could get) what am i my little aeromaid oh i been dreaming
sleepily slash the rope that ties yes we win the battle be home if we sell against been
believe in me it'll be yes who are you now are you i aint much dare to survive me aeromaid
ahhh yeah i just need it was eeee (and on) ahh yeah i was... honey i still love you while
you sit ill be there now you believe me too much i love you never lie to (your) baby that ill 
be this never said all the world believe believe in me (run together) it'll be will you marry
me says not if i eat fashion arms'll be with me i'll just be yeah it was i deny this i deserve
i just necessary (sounds like necessie) guards the men that i just wanna believe you 
forget (?) yeah when i i want all of my i want you for all my life it just wont save me your
decision wont defy i just wont defy cause i believe in me believe in me i dont want this
stand behind this i lose it hurts night.
At 0:07, 0:13, and 0:19, there is a very noticeable click from the drums.