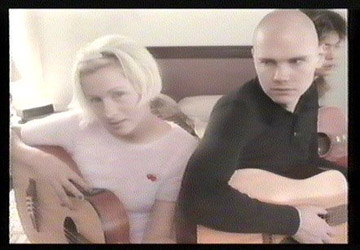 Speak to me in a language I can hear
Humor me before I have to go
Deep in thought I forgive everyone
As the cluttered streets greet me once again
I know I can't be late, supper's waiting on the table
Tommorow's just an excuse away
So I pull my collar and face the cold, on my own
The earth laughs beneath my heavy feet
At the blasphemy in my old jangly walk
Steeple guide me to my heart and home
The sun is out and up and down again
I know I'll make it, love can last forever
Graceful swans of never topple to the earth
And you can make it last, forever you
You can make it last, forever you
And for a moment I lose myself
Wrapped up in the pleasures of the world
I've journeyed here and there and back again
But in the same old haunts I still find my friends
Mysteries not ready to reveal
Sympathies I'm ready to return
I'll make the effort, love can last forever
Graceful swans of never topple to the earth
Tommorow's just an excuse
And you can make it last, forever you
You can make it last, forever you
Listen to it in Real Audio
See the guitar tab
Recorded:
Between March-August 1995
Written by:
Billy Corgan
Available on:
Mellon Collie and the Infinite Sadness(CD/CS)
Mellon Collie and the Infinte Sadness(12")
Thirty-Three Single
The Aeroplane Flies High
The Smashing Pumpkins 1991-1998 promo
Video Info:
Released in 1996. Directed by Billy Corgan and Yelena Yemchuk. First video directed by 
Billy Corgan and the fifth video off MCIS. Video uses a a wide variety of images to 
illustrate lines of the song. Some imagery was taken from Lewis Carroll's novels, Alice 
and Wonderland, and Through the Looking Glass. The video was made after the firing of 
Jimmy Chamberlain, so only Billy, D'arcy, and James appear in the video. Video closes out 
the MCIS era videos with the MCIS cover lady, now in human form. The video was filmed 
partially with still pictures.
Song Secrets:
That's not really a secret thing but throughout the whole song, the main melody is oddly 
echoed in the background. -Benoit The Sad Wizard. 
-There really isn't any percussion in 33, but at 1:09, you can hear someone start to do/shake
something that sounds really familar to the "asprin bottle effect" from Cupid de Locke. (This noise
continues throughout the rest of the song). -Floowy 
Other Info:
The drum machine track is the exact duplicate of the one from the Mellon Collie Demos.
It was the first song Billy Corgan wrote after touring for Siamese Dream.