This Issue:
A Review of James Iha's "Let It Come Down" By Steven Pukin
Beyond Sadness: 97/98 On Tour By Josh Provost
under Glass-An Editorial By David Pukin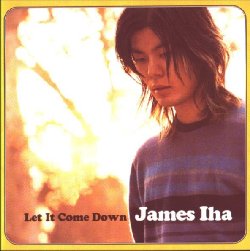 A Review by Steven Pukin
On February 10th, 1998, James released his first solo attempt. I went down to the local HMV(a Canadian music store chain), and got myself a copy. I listened to the whole album, and thought this was alright. After intent listening, a came to a conclusion, James can write beautiful sounding songs but there isn't much variety in feeling on this album. Don't get me wrong, this album has some gems on it, but it doesn't have the mosaic of emotions that a Smashing Pumpkins album has. Although, this was never meant to be a sp album. I think James Iha was trying to get too much away from the Pumpkin angst. He didn't express too much anger, sadness, or even loss. It was mostly a "love" album. I have to give Iha credit, he can play some beautiful melodies, and his lyrics are ok, even though they are cheesy at times. This is kind of a pop album, it is definitely not like a Smashing Pumpkins album. For those of you who like only the hard edged songs of SP, and not the soft ones, then you won't like this album. If you like a variety of music, including soft songs, you like this. It isn't the best work James has done, but it's still pretty good. No one can express love like he can. The album has some solid tracks like the single, "Be Strong Now", "Sound of Love", "See the Sun", and "One and Two". "Country Girl" and "Jealousy" are also honourable but are kinda cheesy at times. The album's other tracks have their strong points, but I would like to see something more than just love on his next album, if there is one. Overall, a pretty good album.
I give Let It Come Down, 7 out of 10.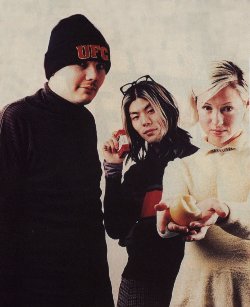 By Josh Provost
Kaboom! The 14-month Infinite Sadness Tour climaxed on February 5, 1997 in New Orleans with a rocking, rollicking, free-for-all that stands as the longest Smashing Pumpkins show ever, nearly 3 hours of fun extending into the night.
However, the Pumpkins are not ones to simply sit around. Without a formal tour or schedule they have mixed up their relaxation, writing, and recording with roughly 20 live musical appearances. These range from solo acoustic sets to surprise rockers, featuring evolved older material mixed with progressive new songs.
Here, a tour diary from a fans perspective from the end of the Infinite Sadness tour to the present day...
2/17/97 Carnegie Hall; New York City, NY
Less than two weeks after the close of the enormo-dome rock tour, Billy came to New York in support of the Tibet House Benefit with a brief acoustic set. The song Need was introduced for the first time in full (it was played in part a few times during the tour, electric). Need proved to be a beautiful song, ruefully sentimental over love lost and simpler days gone by ("sweet seventeen/sour twenty-nine"). Billy also performed a Grateful Dead cover, Death Don't Have No Mercy and instrumentally supported fellow artists Natalie Merchant, John Cale, Allan Ginsberg, Michael Stipe, and Patti Smith.
2/25/97 Conan O'Brien Show; New York City, NY
2/26/97 39th Annual Grammy Awards; New York City, NY
A week later, Billy was joined in New York by his bandmates for a few television performances. First on good friend Conan O'Brien's show, playing Muzzle, then on the Grammy's with a double-drum and dancers rendition on 1979.
??/??/97 Dennis Rodman's 36th Birthday; Chicago, IL
Sometime in the Spring, Billy found time to attend Dennis Rodman's birthday bash in Chicago to perform two David Bowie covers, Heroes and Love to Be in Love With You.
6/23/97 Double Door; Chicago, IL
6/27/97 Glastonbury Festival; Glastonbury, England
6/28/97 Roskilde Festival; Roskilde, Denmark
6/29/97 Open Air Program '97; St. Gallen, Switzerland
7/02/97 Imperial ao Vivo; Oporto, Portugal
7/04/97 Eurokennes Festival; Belfort, France
7/05/97 Belgacom '97; Torhout, Belgium
7/06/97 Rock Werchter; Werchter, Belgium
7/08/97 Katowice, Poland
7/09/97 Hockney Arena; Prague, Czech Republic
On June 23, 1997, the Audio Vanguard Association made their debut at
Chicago's Double Door club. Of course no one was fooled. The AVA was a thinly veiled Smashing Pumpkins looking to warm up for a three-week spin though Europe. Summer festivals are a staple in Europe, at their largest lasting the good part of a week and featuring hundreds of bands on multiple stages.
Seldom was a word heard from the band during these shows, even by the local Chicago crowd during the warm-up, and even less by the international fans.
The focus was on a new interpretation of the bands MCIS-era songs and the roll-out of some new ones. The songs were played with a heavy lean to rhythm. They went neither too high, nor too low, but maintained a steady flow. These alternate versions of Porcelina, XYU, Ruby, Bullet, and more came across as captivating, techno yet organic, a push to the future, yet a recalling of the past with a hint of the Siamese Dream-era sound.
Four songs saw their live introduction on this mini-tour, Eye, Transformer, The End is the Beginning is the End, and an instrumental, listed as Yardbirds (Disconnect) on the bands setlists.
10/18-19/97 Shoreline Amphitheater; Mt. View, CA
After a few months rest the band came back with something entirely different. Two days of acoustic interpretations and new songs in support of another worthy charity, the Bay-area Bridge School for physically and mentally challenged youth.
Older songs such as Bullet and 1979 though acoustic, were treated to the mellow flow of the summer festival renditions. Fans in attendance were also pleased to hear Set the Ray to Jerry, a beloved b-side, played both days. An unlikely candidate for acoustic adaptation, X.Y.U., was played both days to the confusion (and pleasure) of all in attendance.
Three new songs were introduced. Though the titles are not yet confirmed, they are commonly called To Sheila, Never Apart, and Nitemare. To Sheila is a sappy ballad ("you make me real/as strong as i feel"). Never Apart is a more acid, obsessive song probably more suitedas an electric rocker ("you're the one that i adore/you'll always be my whore"). Nitemare is a vivid storytelling-type song, beautifully arranged with a mix of staccato and arpegiated chords ("sun grows torch/over distant avalon").
As is common at the Bridge School Benefit shows (this was the 11th annual), the Pumpkins were joined at times by other musicians. Marilyn Manson and Twiggy Ramirez appeared the first day sharing vocals andguitar on Eye and The Beautiful People. Eye certainly had an ominous overtone in the foul grip on Mr. Manson. To close out the second day,John Popper helped out, adding harmonica to Porcelina. It was different, yes, but it worked quite well, adding the oceanic undertones the mellotron brought in the studio. More than complementary, Popper closed it out in style with a two-minute long ascending harmonica solo.
11/01/97 Texas Motor Speedway; Fort Worth, TX
12/05/97 Homestead Racetrack; Miami, FL
The Pumpkins were one of many popular modern bands (including Pearl Jam and Dave Matthews Band) invited to open for The Rolling Stones on their Bridges to Babylon tour. Back to their usual electric instruments they continued to evolve their songs, including a new version of In the Armsof Sleep. Eye and TEITBITE were again present, as well as a pleasant surprise, Mouths of Babes, on the first date. New songs Need and Never Apart also popped up, this time treated to a distorted stadium-rock sound. Never Apart was introduced as Eva Adore, thus throwing the former working title into suspicion. Marilyn Manson popped his head upagain for a duet.
11/03/97 Aragon Ballroom; Chicago, IL
In between opening for the Stones the band found the time to help Janes Addiction kick off their comeback tour. The Pumpkins were a surprise late addition to the bill.
The music was a very short, no surprises set of MCIS material. The real quirk to this performance was Billy's attire, a slinky red velvet dress and red wig.
01/15/98 The Viper Room; Los Angeles, CA
In January, with a considerable amount of recording complete for the upcoming album and James' solo album soon to be released, the boys performed solo acoustic sets on very short notice at the tiny (under 200 capacity) Viper Room in LA.
For those that could make it, it was the biggest payoff for a fan since the Double Door shows three years past. James' set featured cuts from his new album, Let It Come Down. Billy's set featured ten new songs, mostly gentle ballads. What are the names? Will they make it to the new album? Only time will tell, but you can begin to draw conclusion bychecking out three of the songs from the Viper Room show in real audio format: "Ava Adore", "Let Me Give the World to You", and "To Sheila".
In conclusion, the past year has seen a wide variety of live performances. Hard, soft, and in between, the common theme was change. Old songs were evolved, and new songs proved to be a original breed altogether. Like it or not the Smashing Pumpkins have found a new direction...and they're going for it!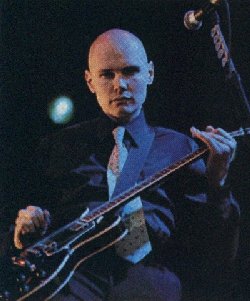 A Editorial by David Pukin
Over the years a lot has been said about band leader, Billy Corgan. The media has tried to portray him as a sort of dictator of The Smashing Pumpkins. They have said that the other band members, James and D'arcy, have lived under his giant shadow all along. This is suggesting that Billy only cares about his ideas and no one elses. Of course, this isn't true. Just because there are few tracks on the albums with either James or D'arcy at that main vocals doesn't mean that Billy is self-absorbed. The other producers have also a big say on what goes on the albums and what doesn't, too. The simple fact is that Billy writes the bulk of the songs, and he is the lead singer and guitarist. Naturally most of the songs that will make the cut will be his. This is what one article from Request magazine that talks about Billy after the firing of Jimmy Chamberlin: "Chamberlin's "insidious disease" was tolerated until it threatened the band's national tour-and Corgan's bank account. Billy: Despite all your rage, you're still just a rat-period." The person who wrote that article obviously didn't do their homework. Billy wasn't the one who urged everybody to fire their drummer, it was D'arcy. The reason why she brought it up was because the band had given him too many "this is your last chances". No matter where you go there will be always some magazine or newspaper columnist slamming Billy Corgan for some reason. I believe that the media has been harsh on Corgan and that they should be better judges of character in the future.
- Pumpkins win a Grammy for Best Hard Rock Performance, for "The End is the Beginning is the End"
- They are being sued by Virgin Records for only completing 3 out of 7 albums in their contract
- SP will release their new album, Adore, in Late May, according to Corgan, "it will surprise some people"